Applications
Precision tooling solutions for the most demanding applications.
Ring Precision manufacturers high value-added, precision round tooling, and punches and dies for medical and other highly regulated industries. Our cutting-edge manufacturing processes and quality control commitment ensures tooling longevity and quality.
Medical Device & Life Sciences
We specialize in ultra-precision medical device tooling to support a wide variety of medical device and healthcare consumables. Our medical tooling and pharmaceutical tooling is used for applications such as medical and veterinary syringe bodies, single use fluid delivery products, catheters, mold cavities, pipettes for blood analyzers and testing equipment, and many others. Ring Precision uses automation and robotics in many of it's work cells.
CNC Swiss turn machines and precision grinding capabilities allow us to produce complex square core pins or round core pins for medical injection molds, ejector sleeves and ejector pins, bushings, tooling for injection molds including NEW FDA mandated ISO compliant luer tooling, syringe tooling, catheter tooling, mold cavity tooling and tablet compression tooling for high-speed pill production and packaging. Durability is the hallmark of the Ring Precision tooling offering.
Our injection molding tooling expands beyond the medical device industry. Our extensive fleet of automated wire and sinker EDM machines enable us to offer complex mold cavities for your most demanding applications.
The Producto Group also specializes in precision machining and custom plastic enclosures for the medical device industry.
Luer Lock and Luer Slip syringe tooling
Are your luer fittings for small-bore connector medical devices ISO compliant? Our team can help.
Ring Precision specializes in ultra-precision mold tooling for the medical device industry, recently including FDA mandated ISO 80369 compliant small-bore connector standards for liquids and gasses in healthcare applications.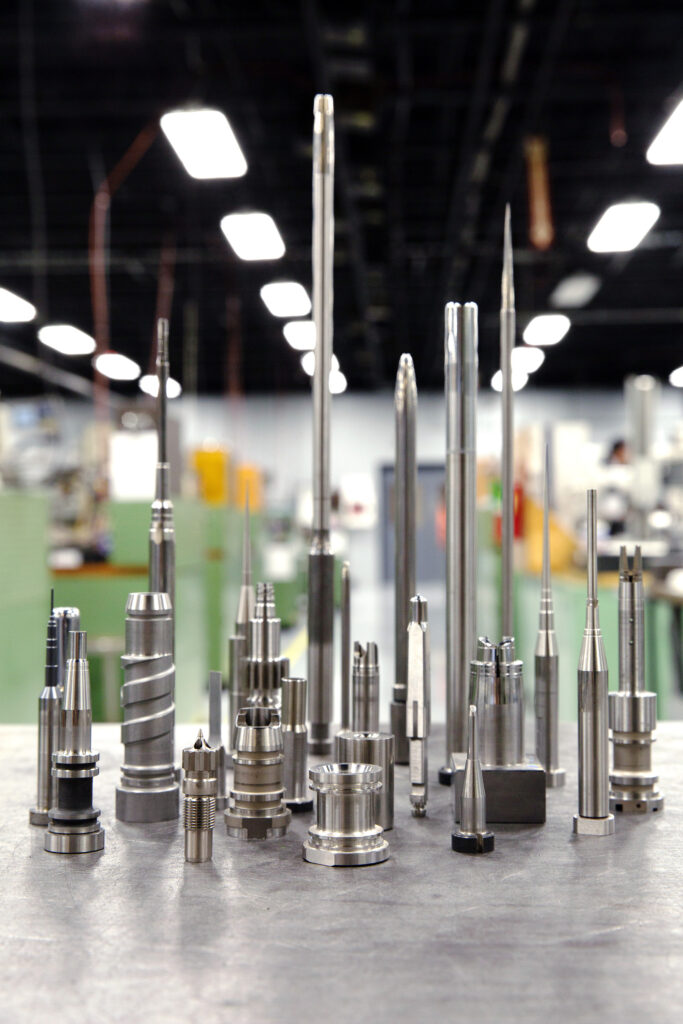 Aerospace & Defense
Ring Precision is an established industry leader in the manufacturing of deep draw punches and dies for complex aerospace and defense applications. Our aerospace tooling outlasts the competition with class leading precision and consistency. Whether it's turbine airfoil blades or high precision bearing components we have the expertise to help you take your process to the next level.
Explore our precision machining capabilities in the aerospace and defense industry.
Battery
We have decades of experience supplying compaction tooling for the battery industry which is used to compact cathode mix into the battery can. Our compaction tooling offers a superior life span versus the competition. With our attention to detail, polishing, proprietary heat-treating process and world class inspection we have what it takes to keep your operation running around the clock.
Food & Beverage
Ring Precision produces precision can tooling for food and beverage applications including punches & dies for blanking and drawing, cut edges and more. We have the precision EDM capabilities that allow us to produce high volume, tight tolerance tooling for every type of food and beverage application.
Learn more about our can tooling precision machining capabilities.
Diversified industrial punches & Precision Dies
Ring Precision has decades of experience manufacturing precision tooling to support many diversified industrial applications.
We also manufacture electronics tooling from contacts, connector shells, connector pins, and circuit board level components.
TOOLING EXAMPLES
Round & Shaped Punches
Pierce Punches
Punch Blanks
Embossing Punches
Draw Punches
Pilot Punches
Round & Shaped Dies
Fin Dies
Draw Dies
Piercing Dies
Forming Dies